Wish They All Could Be Like Estonia
By MARY ANASTASIA O'GRADY
January 4, 2006; Page A10
With the 1989 fall of the Berlin Wall the world witnessed a backlash against the overintrusive state. A rallying cry in favor of economic liberalization went up around much of the globe. Some governments -- notably in Eastern Europe -- used the momentum to push deep, structural reform. Others -- notably in Latin America -- bungled the opportunity.
Is there any way to explain why it is that some countries have been able to restructure their economies so radically while others have been left in the clutches of special interests?
The 2006 Index of Economic Freedom, published today by the Heritage Foundation and The Wall Street Journal, provides powerful clues. The annual report surveys 157 countries, grading property rights protection, the regulatory environment, tax rates, fiscal policy, government intervention in the economy, monetary policy, black markets and trade policy, assigning each a numerical rating. Each country falls into one of four categories: "free," "mostly free," "mostly unfree" and "repressed." The chart shows this year's results.
<![if !vml]>
<![endif]>DETAILS
See a country index of economic freedom for 2006.
As they do every year, the index authors observe the average per capita income of countries in each category. Not surprisingly, over the years, they have found a strong relationship between economic freedom and prosperity. Yet there is something more that can be observed in this pattern: Countries that liberalize quickly and thoroughly achieve resounding successes, politically and economically. Conversely, gradualism risks stagnation and even reversals, because the benefits are not evident enough to impress the electorate and generate a momentum in their favor.
Take, for example, the difference between the wealth of "repressed" economies and "mostly unfree" economies. The per capita GDP of the former is $4,239 while of the latter it is a tad lower at $4,058. This suggests that reforms that move a country one step up in economic liberty, on average, produce no material benefit to the population.
The jump from "mostly unfree" to "mostly free" yields a much better return but still leaves a country not particularly well-off. "Mostly free" countries have a per capita GDP of $13,530, while "free" countries have, on average, a per capita GDP of over $30,000.
This matters the most in democracies, where leadership needs to produce results if liberalization is to stick. Clearly, it's not the absolute income level that generates support for reforms but the growth in living standards that seems to hold the key. Halfhearted measures generate immense resentment from the "losers" of the old system but often don't yield large enough gains to create a constituency to support the changes.
For evidence of this, compare seventh-place Estonia, a tiny nation that undertook revolutionary reform in the mid-1990s, with Chile, rated 14th this year and often considered the poster child of economic liberty in the developing world.
Chile has been in various stages of economic reform since the 1973 coup that ousted Salvador Allende, who was threatening to take the country over the communist cliff. The return to democracy in 1989 brought about a series of left-of-center governments that, while boasting that they had not turned back the economic liberalism of the Pinochet dictatorship, slowed the pace of reform dramatically. The current socialist presidency of Ricardo Lagos even reversed liberalization in labor markets.
Meanwhile in Estonia, as former Prime Minister Mart Laar likes to explain, the post-Soviet period has been marked by rapid, deep reform. Communism was so reviled that policy makers, almost instinctively, chose its direct opposite and promptly enshrined the preference in law.
The results may explain why political support for economic liberalism continues in Estonia, while in Chile free markets are under assault even by center-right politicians. The difference is the rate of change of progress for citizens. In 2004, with reforms kicking in, Estonia's per capita GDP was almost $7,500, nearly double what it was in 2001 -- $3,951, when the country ranked 14th in the Index of Economic Freedom. In Chile, after 30 years of reform, per capita GDP remains below $5,900, edging up only slightly from $4,784 in 2001, when Chile ranked 13th.
The tale of two small nations tells a wider global story. Is it any wonder for example that Brazilians, who after almost two decades of being told they are converting to a market economy, widely reject the notion? Improvements have occurred, for instance in monetary stability, but the country is still ranked "mostly unfree," with a per capita GDP of $3,500. Maybe Mr. Laar could pay them a visit.
Ms. O'Grady is member of the Journal's editorial board. She is co-editor, with Marc A. Miles and Kim R. Holmes, of the 2006 Index of Economic Freedom (422 pages, $24.95), available at 1-800-975-8625.
<![if !vml]>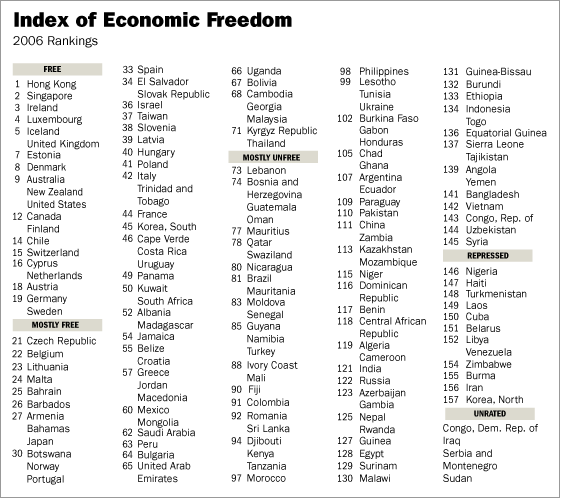 <![endif]>
<![if !supportLineBreakNewLine]>
<![endif]>